980 Madison Avenue
New York, NY 10075
212 772 8083
Artists Represented:
Francis Bacon
Sandro Botticelli
Alexander Calder
Canaletto
John Constable
Paul Cezanne
Wilhelm de Kooning
Domenico Gnoli
El Greco
Jasper Johns
Paul Klee
Fernand Leger
Henri Matisse
Joan Miró
Pablo Picasso
Ed Ruscha
Vincent Van Gogh
Works Available By:
Richard Ansdell
Peter Blake
Tim Braden
Pier Calzolari
Joe Coleman
Annelise Coste
Keith Coventry
Verne Dawson
Willem de Kooning
Tara Donovan
Eduardo Enfeldt
Claire Fontaine
Lucio Fontana
Paul Fryer
Victoria Gitman
Domenico Gnoli
Sir Francis Grant
Robert Gutierrez
George Herms
Alexander Hoda
Robert Jack
Merlin James
Jasper Johns
Darina Karpov
Martin Kippenberger
Germaine Kruip
Sir Edward Landseer
Julie Mehretu
Helio Oiticica
Claes Oldenburg
Robert Olsen
Richard Pettibone
Pablo Picasso
Michelangelo Pistoletto
Georges Rado
Jim Shaw
Joel Sternfeld
Rikrit Tiravanija
Rosemarie Trockel
Jose Yalenti
Past Exhibitions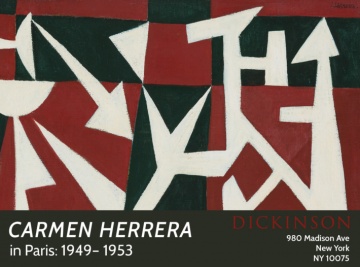 Carmen Herrera
Carmen Herrera in Paris: 1949 – 1953
980 Madison Avenue
New York, NY 10075

November 2, 2020 - January 8, 2021
Dickinson New York presents an important, privately-owned collection of works by Cuban-American abstract painter Carmen Herrera (b. 1915). The eight paintings date from between 1949 and 1953, a period when Herrera was living in Paris and responding to the European avant-garde.
20 Under 20
980 Madison Avenue
New York, NY 10075

April 6, 2020 - May 2, 2020
Spring Exhibition
980 Madison Avenue
New York, NY 10075

March 24, 2020 - April 30, 2020
Startling Relief
980 Madison Avenue
New York, NY 10075

February 29, 2020 - April 25, 2020
Giorgio Morandi
Linear Impulse
980 Madison Avenue
New York, NY 10075

June 20, 2019 - September 10, 2019
Beauty Shared
980 Madison Avenue
New York, NY 10075

April 26, 2019 - June 6, 2019