16 East 55th Street
New York, NY 10022
212 367 9663
Artists Represented:
Nobuyoshi Araki
Margot Bergman
Ellen Berkenblit
John Bock
David Byrd
Brian Calvin
Anne Collier
Julie Curtiss
Nathalie Du Pasquier
Nicole Eisenman
Saul Fletcher
Martino Gamper
Ellen Gronemeyer
Mark Grotjahn
Bendix Harms
Eberhard Havekost
Lothar Hempel
Richard Hughes
Robert Janitz
Sarah Jones
Jim Lambie
Marepe
Chris Martin
Dan McCarthy
Matthew Monahan
Aliza Nisenbaum
Marcel Odenbach
Manfred Pernice
Alessandro Pessoli
Wilhelm Sasnal
Lara Schnitger
David Shrigley
Francis Upritchard
Eric van Lieshout
Andy Warhol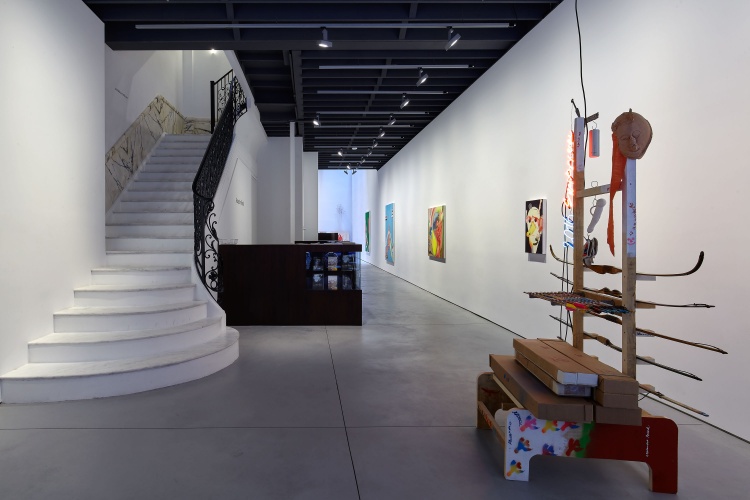 Online Programming
Margot Bergman
Cups
Anton Kern Gallery is pleased to introduce a special group of works on paper by Margot Bergman, created between the 1980s – 1990s. Historically, teacups and other tabletop vessels have been depicted as static objects within a still life composition. In Bergman's works, the common cup is recast as the subject. Each cup is packed with its own unique personality, bursting with joy and motion. No longer relegated to the background, these wild forms dance with bold color and individualized adornments.
Past Exhibitions
Matthew Monahan, Lara Schnitger
WINDOW
October 31, 2020 - December 5, 2020
Anton Kern Gallery is pleased to present two special installations by Matthew Monahan and Lara Schnitger at WINDOW. Corner of Walker & Lafayette On view 24/7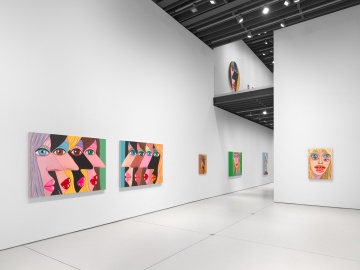 Brian Calvin
Waiting
October 29, 2020 - December 5, 2020
Anton Kern Gallery is pleased to present Waiting, Brian Calvin's seventh solo exhibition in New York. Faces abound, energizing the first and second floor galleries with hyperbolic color, mosaic eyes, and varnished lips. The cool neutrality of their expressions brings an equal and opposite force; a stillness to the space. Otherworldly as they are, this group of 23 new works cannot be untangled from the time within which they were created. These paintings were born out of the global pandemic, which brought life as normal to a halt.
Jim Lambie
Year Unknown
October 29, 2020 - December 5, 2020
Anton Kern Gallery is pleased to present Jim Lambie: ​Year Unknown​ on the gallery's third floor. The exhibition features new metal boxes and sunglasses sculptures, and is a decidedly intimate one, with small scale pieces and titles that make connections to personally significant cities and streets. Lambie's work often references music and art, here resonating in a particularly individual way––subtly invoking the album that changed your life; the concert that blew your mind; the painting that made you see the world differently. Together, the works in ​Year Unknown​ offer a contemplative and dynamic journey, one that is both of this moment but also timeless. Lambie's transformation of humble materials––lenses, aluminum sheets, industrial paints––into these vibrant odes defies their seeming simplicity. The artist encourages the viewer to relish in color, light, and shape––finding meaning in the things we all see that unite us as humans, and the ways we can still find joy in the everyday.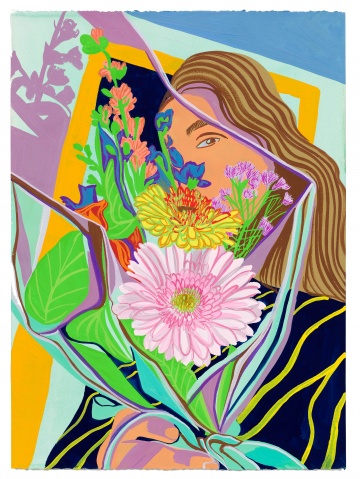 Aliza Nisenbaum
Flora
September 9, 2020 - October 24, 2020
Anton Kern Gallery is pleased to present Aliza Nisenbaum: Flora, an exhibition of new works on paper on the gallery's third floor. Image: Aliza Nisenbaum, "Self portrait bouquet" 2020, gouache and watercolor on paper, Paper Dimensions: 30 x 22 in (76.2 x 55.9 cm)
Tal R
Boy Walking and Cinnamon: Sculptures and Paintings
September 9, 2020 - October 24, 2020
Anton Kern Gallery is pleased to announce its first solo exhibition with Danish artist Tal R. The exhibition will consist of fifteen paintings and twelve bronze sculptures. Tal R is best known for his paintings and their exceptional display of energy and imagination in a colorful and exuberant universe. For the first time, he has also thrown himself into classical bronze sculpture. In Boy Walking and Cinnamon, the viewer can experience the artist's motifs transformed into three dimensions—a striking parade of figures in patinated bronze. His creatures have arrived in New York with arms and legs, heads and paws, wings and shoes, beaks and eyes. On the first and second floors, alongside the sculptures, Tal R's paintings unfold to the viewer using a simple compositional device to create his complex, atmospheric worlds. Image: Tal R, "Adidas Boy" 2019, Patinated bronze, 61 3/4 x 10 5/8 x 25 5/8 in (157 x 27 x 65 cm)
Ellen Berkenblit
Sistergarden
February 20, 2020 - March 28, 2020
Nicole Eisenman
Incelesbian
February 20, 2020 - March 28, 2020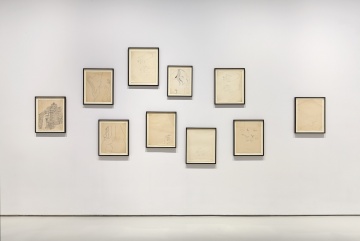 Aliza Nisenbaum
Coreografías
September 13, 2019 - November 2, 2019
David Altmejd, John Bock, Kari Cholnoky, Lothar Hempel, Antone Könst, Jim Lambie, Thomas Lanigan-Schmidt, Marepe
Wirrwarr
September 13, 2019 - November 2, 2019
Nathalie du Pasquier
June 26, 2019 - August 16, 2019
Margot Bergman
June 26, 2019 - August 16, 2019
David Shrigley
April 25, 2019 - June 15, 2019
Julie Curtiss
Wildlife
April 25, 2019 - June 1, 2019
Dan McCarthy
7 Bangers
March 15, 2019 - April 20, 2019
Jim Lambie
Skin Shape
March 15, 2019 - April 20, 2019
Erik van Lieshout
BEER
February 7, 2019 - March 9, 2019
David Byrd
February 7, 2019 - March 9, 2019
Robert Janitz
Uptown Campus
December 13, 2018 - January 26, 2019
Saul Fletcher
November 1, 2018 - December 1, 2018
John Bock
November 1, 2018 - December 1, 2018
Matthew Monahan
frNMEz
September 12, 2018 - October 20, 2018
Ellen Berkenblit
The Clock Unlocked
September 12, 2018 - October 20, 2018
Nobuyoshi Araki
I , Photography
July 12, 2018 - August 31, 2018
The Party: Curated by Ali Subotnick
July 12, 2018 - August 31, 2018
Francis Upritchard
May 24, 2018 - June 30, 2018
Bendix Harms
SANKT RUFUS
May 24, 2018 - June 30, 2018
Anne Collier
April 12, 2018 - May 19, 2018
Chris Martin
March 1, 2018 - April 7, 2018
Sarah Jones
March 1, 2018 - April 7, 2018