47 Walker Street
New York, NY 10013
212 367 7474
Alexander and Bonin was established in 1995 by Carolyn Alexander and Ted Bonin with the primary purpose of representing and supporting the work of emerging, mid-career, and established international contemporary artists. Since its inception, the gallery has worked closely with museums and public institutions around the world and has established a reputation for a rigorous and diverse programme. In 1997, Alexander and Bonin moved to a three story building in Chelsea, and is pleased to announce its move to 47 Walker Street in Tribeca.

Artists Represented:
John Ahearn
Jonathas de Andrade
Matthew Benedict
Fernando Bryce
Michael Buthe
Carlos Bunga
Willie Cole
Eugenio Dittborn
Willie Doherty
Victor Grippo
Mona Hatoum
Diango Hernández
Emily Jacir
Robert Kinmont
Stefan Kürten
Jorge Macchi
Rita McBride
Ree Morton
Sylvia Plimack Mangold
Doris Salcedo
Paul Thek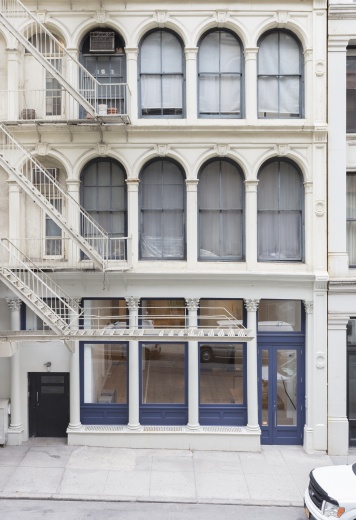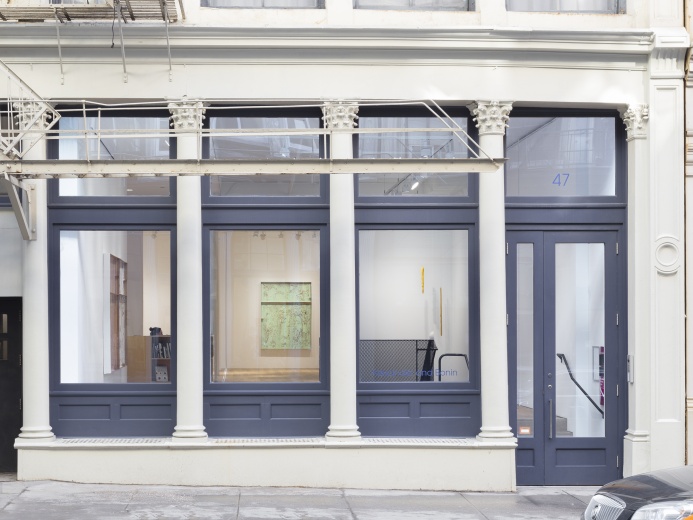 Current Exhibitions
John Ahearn and Rigoberto Torres
John Ahearn / Rigoberto Torres
47 Walker Street
New York, NY 10013

September 8, 2017 - October 21, 2017
Peter Hujar
The Tribe
47 Walker Street
New York, NY 10013

September 8, 2017 - October 21, 2017
Past Exhibitions
Walker Street Summer
47 Walker Street
New York, NY 10013

July 5, 2017 - August 18, 2017
Willie Doherty
No Return
47 Walker Street
New York, NY 10013

May 2, 2017 - June 24, 2017
Willie Doherty's No Return (2017), a single channel projection, will be installed in the video gallery. No Return was shot in a small town near Pittsburgh in an area once known as the "cradle of Western Pennsylvania's steel industry," before suffering from its collapse in the 1980s. While the work engages with the landscape as it looks today, it also approaches it as both a repository for the memories of past experiences and a witness to the ravages of socio-economic change and ecological degradation. In looking at the present, No Return visualizes our shared apprehension about the future. Doherty's approach and process is speculative. Often taking an existing image or other information as a starting point, he then proceeds to see what can be discovered or found in a location. No Return extends Doherty's interest in the relationship between landscape and memory and working in locations that bear the traces of contested histories and narratives; some forgotten, some half remembered. The work was commissioned by the Mattress Factory, Pittsburgh for their exhibition so it is which remains on view through August 7, 2017.
Sylvia Plimack Mangold
Summer and Winter
47 Walker Street
New York, NY 10013

May 2, 2017 - June 24, 2017
Summer and Winter, an exhibition of recent paintings, drawings and watercolors by Sylvia Plimack Mangold will be presented in the main gallery. Beginning in the late 1970s, Plimack Mangold focused her attention on the landscape around her property in Washingtonville, New York and eventually to individual trees. Working from direct observation, Plimack Mangold has painted the maple tree outside her studio window in the summer and winter over successive years. Repeatedly exploring the same viewpoints of the upper portions of the tree provides the viewer with the opportunity to experience the changes within the planes of leaves. Viewing a room of summer or winter paintings emphasizes a less pictorial view – the leaves, or the sky between branches, become areas of pure paint as one analyzes how Plimack Mangold constructs her paintings. A selection of works on paper by Plimack Mangold will also be on view as part of Elements of XXX, a three artist exhibition at 47 Canal, New York. Concurrent to the opening of Sylvia Plimack Mangold's exhibition at Alexander and Bonin on May 5th will be the opening of Robert Mangold's exhibition at PACE (510 West 25th Street) from 6 to 8pm.
Robert Kinmont
Want
47 Walker Street
New York, NY 10013

May 2, 2017 - June 24, 2017
Want, an exhibition of new sculpture by Robert Kinmont, will be on view on the lower level. Kinmont grew up in the desert near Bishop, CA and has lived most of his adult life in northern California. These rural environments have provided the practical and conceptual foundation for his work, exemplified by his recurrent use of commonplace and natural materials such as wood, pine, and dirt. Kinmont uses these modest materials to explore the relationship between the environment and his own body and life. In his latest work, copper serves as the primary medium, a material Kinmont describes as "warm and friendly" and "malleable in a way that is physical and approachable for the viewer." Additionally, several works incorporate cursive scripts, the contents of which introduce family and domestic themes. The first Bay Area retrospective of his work, Robert Kinmont: Trying to understand where I grew up, was presented at di Rosa, Napa in 2015.
Jorge Macchi and Edgardo Rudnitzky
From Here to Eternity
47 Walker Street
New York, NY 10013

March 11, 2017 - April 22, 2017
From Here to Eternity (2013), a collaborative work by Jorge Macchi and Edgardo Rudnitzky, will be installed in the video gallery. In this two-channel video projection, Macchi interprets the title of the 1953 Hollywood classic "From Here to Eternity" literally and paradoxically: the projection is composed of two loops based on the few seconds that both the title of the film and the words "THE END" appear in the movie. As the two clips have slightly different lengths, they present an unsynchronized whole in which their soundtracks overlap into a chaotic sound mixture. With the help of computer software, musician Edgardo Rudnitzky creates a third audio channel in real time: the software takes musical notes from both original soundtracks and develops another sung by women's voices.
Carlos Bunga
Absence
47 Walker Street
New York, NY 10013

March 11, 2017 - April 22, 2017
Central to Carlos Bunga's exhibition is a site-specific installation that emerges from a dialogue with the gallery space and recalls a life-size architectural model. In his installations, Bunga not only encourages visitors to rethink their experience of space, but also evokes the transient and fragile nature of urban structures. Absence will also include works that make use of mass-produced materials such as cardboard, tissue, and house paint. Bringing to mind colorful interior walls, these works seemingly escape the traditional boundaries of painting, sculpture, and architecture. The exhibition will also include smaller sculptural works that similarly explore concepts of opposition central to Bunga's practice such as packing and unpacking, internal and external space, permanence and transience.
Matthew Benedict
The Sea Cook
47 Walker Street
New York, NY 10013

March 11, 2017 - April 22, 2017
On the lower level, a new body of work by Matthew Benedict will be on view. The exhibition takes its title from a new painting, The Sea Cook (2017), based on a historical photograph of the crew of the USS Monitor, an iron-hulled steamship built at Continental Iron Works in Greenpoint, Brooklyn during the Civil War. The exhibition will also include works on paper relating to the Monitor and other nautical scenes. Benedict paints in a graphic style reminiscent of early 20th century adventure story illustration and employs trompe-l'oeil techniques. He has lived and worked in Greenpoint for nearly thirty years and has created bodies of work based on great works of literature, the occult, and historical sources.
Rita McBride
Premium New Markers
47 Walker Street
New York, NY 10013

January 12, 2017 - March 4, 2017
Premium New Markers, a series of sculptures by Rita McBride will be shown in the entrance gallery. The works are inspired by Joseph Beuys' 7,000 Oaks project, inaugurated in 1982 at Documenta 7. Beuys' plan called for the planting of 7,000 trees, each paired with a basalt marker. Sixteen of these tree/ marker pairs can be found on West 22nd Street, close to DIA Chelsea. Deriving their shape from those basalt totems, McBride's Premium New Markers are clad in Abet laminate, a material emblematic of post-modern architecture and design of the 1980s. With an eye trained on modern objects and architecture, McBride's sculptures toy with the formalism and functionalism of public structures and their oft-overlooked role as mainstays in public space.
Jonathas de Andrade
O Caseiro
47 Walker Street
New York, NY 10013

January 12, 2017 - March 4, 2017
In the video gallery is Jonathas de Andrade's O Caseiro/ The Housekeeper (2016), a work constructed symmetrically in two narratives with synchronized shots. On the left, Joaquim Pedro de Andrade's 1959 film, O Mestre de Apipucos shows the daily life of Gilberto Freyre in his home in Recife. Freyre is the historicist who wrote the remarkable 1933 book Casa Grande e Senzala (The Masters and the Slaves). On the right, Jonathas de Andrade constructs a mirroring of Pedro de Andrade's film, substituting Freyre with a fictional caretaker of the aristocratic residence. The parallel between the two characters establishes a tension that underlines aspects of class and race, two of the main subjects that Freyre dealt with in his work.
Jorge Macchi
Threshold
47 Walker Street
New York, NY 10013

January 12, 2017 - March 4, 2017
Jorge Macchi is considered one of Argentina's leading artists. Although Macchi has worked in a wide range of mediums from installation, sculpture, and works on paper to video and performance art, he has recently directed his efforts to painting, the discipline in which he was initially trained. The exhibition at Alexander and Bonin includes ten oil paintings made over the past three years. Departing from the ordinary and coincidental, his paintings alter scale and context, employing a system of layered visual complications and interruptions that offers a sensorial, disconcerting, and contemplative experience. Macchi's paintings have been termed "anti-iconic" by curator and art historian Cuauhtémoc Medina, in that they seek to escape an overcoded, predictable interpretation of the medium and move toward an understanding of painting tied to individual experience and ambiguity.
Paul Thek
Eye of the Beholder
47 Walker Street
New York, NY 10013

January 12, 2017 - March 4, 2017
Eye of the Beholder, an exhibition of works on paper and small paintings by Paul Thek includes a pencil triptych executed in 1970 while he was living and working in Amsterdam. The three pages are filled with rows of vertical marks with a tender drawing of a lamb in the center, which points to Thek's continued engagement with Christian iconography and Dutch Baroque painting. The exhibition title is taken from a turquoise watercolor which was included in Thek's final lifetime installation Selected Works 1987-1988 at Brooke Alexander, New York.
Willie Doherty
Passage
47 Walker Street
New York, NY 10013

October 15, 2016 - December 22, 2016
Willie Doherty's Passage (2006), a single channel projection will be installed in the lower level video gallery. In his video installations and photographs, Doherty has addressed problems of representation, territoriality, and surveillance as well as the politics and rhetoric of identity, especially in his native Northern Ireland. Shot at night in the waste ground near a motorway that is audible in the background, Passage follows two men as they walk toward each other from opposite directions. The men are unaware of each other's presence until they meet at an underpass. As they pass, each man looks back over his shoulder at the other and continues to walk. This moment of recognition and tension is repeated again and again in a sequence of cuts that shift from one figure to the other, confusing expectations of any potential narrative closure.
Ree Morton
Something in the Wind
47 Walker Street
New York, NY 10013

October 15, 2016 - December 22, 2016
Ree Morton came to prominence in the late 1960s, at the intersection of post-minimalism and the formative period of installation art. The exhibition at Alexander and Bonin will include several rarely seen works, including Column Piece, which was in a four person exhibition at LoGiudice Gallery in 1972. Column Piece maps the physical space of the gallery by outlining a rectangular area with painted faux bricks, which encircle a 6x10-foot painting mounted on a wheeled platform. The painting itself delineates a topography of the newly created space. Something in the Wind is comprised of hand-sewn and painted flags, each of which names a close friend, family member, or fellow artist. First displayed rigged to the masts of the Lettie G. Howard, docked at the South Street Seaport during the Summer of 1975, the flags were also included in a lifetime exhibition a year later at the University of Rhode Island, Kingston. For Kate (1976) exemplifies Morton's confluence of painting, sculpture, and constructed 'environments.' Installed in a corner, a painting of roses is bracketed by two large ribbons unfurled in space and embellished with three-dimensional roses. Primarily constructed of celastic − a malleable plastic material which Morton manipulated into shapes resembling fabric − For Kate was shown in a faculty exhibition at UC San Diego in 1976 and recently reassembled for Morton's 2015 retrospective at the Reina Sofía, Madrid.
Mark Morrisroe
Works from 1982 - 85
47 Walker Street
New York, NY 10013

October 15, 2016 - December 22, 2016
On the lower level, a selection of photographs by Mark Morrisroe will be on view. Morrisroe's work was intrinsically tied to his elaborate personae and personal sexual and social relationships, for which he combined the diaristic with the melodramatic. He grew up in Boston and later attended art school, before moving to New York City in the mid-1980s. He worked with the immediate medium of Polaroid and experimented with various photographic processes, one of which being his elaborate "sandwich prints." The works on view at Alexander and Bonin include eight C-prints from this series—enlargements of double negatives of the same subject mounted on top of one another, which he would often manipulate, color, paint, and write on. The entirety of Mark Morrisroe's estate is in the Ringier collection and housed at Fotomuseum Winterthur. As a result, only those works sold or given to friends during the artist's brief lifetime are in circulation.